Need Parts for your rugged old New Process NP205 Transfer Case?
We have the most complete inventory of new, genuine, USA Made New Process Gear NP205 4x4 transfer case parts in the world. Genuine New Process gears and shafts feature outstanding fit, finish, and durability so critical to high performance NP205 applications and are unequaled for performance under the most rigorous operating conditions. For your less demanding NP205 Transfer Case installations, check out our selection of good quality, low cost, aftermarket replacement parts. Our aftermarket parts will give great service for many NP205 applications, but if you are running a Cummins Diesel or really souped-up gas engine in front of your 205, we
strongly
recommend you stick with our
Torque King®
genuine New Process gears, shafts, and parts for maximum performance and life.
NP205 History: Chrysler's New Process Gear of Syracuse, New York manufactured the rugged and reliable NP205 gear drive transfer case for 1969 to 1993 model year full size 4x4's. It was offered with both remote mount and direct mount configurations. Right Drop 205 cases were used by Dodge from 1969 to 1993 and by GM from 1969 to 1991. Ford used left drop cases from 1973 through 1979. International used (NP205 History continued below)
(History continued from above)
...right drop 205 remote mount transfer cases from 1969 until light truck production ceased in 1975. A number of 205 parts also fit NP200 cases in 1967-1969 Jeep 1¼ ton M715, M725, M726 series military trucks and the NP200 and 201 cases found in older Dodge and International trucks.
The NP205 is a cast iron, gear drive transfer case with a 1:1 high range and a 1.96:1 low range. It is considered by many to be the strongest transfer case ever factory installed in one ton and smaller 4x4's. The basic design of the 205 remained unchanged throughout its production history with the exception of synchronized front output shaft briefly used by GM in the early 1980's. The synchronized version was intended to provide shift-on-the-fly 4x4 capability with automatic locking hubs. Unfortunately, it didn't really work out as intended, and GM cancelled the production contract almost immediately, but they were obligated to take enough units to pay for New Process's tooling costs. Most synchronized 205's are in the 1982 to 1983 model year GM 1 tons, however, GM still had enough transfer cases on hand to apparently offer it as an option on 1 ton trucks for several more years. The last production vehicle to use the NP205 was the 1993 Dodge pickup equipped with the Cummins Diesel engine. During the 1990's a good number of Chevy and GMC C3500 4x2 1 Ton trucks were converted to 4x4 for fleet use until the supply of brand new NP205 transfer cases dried up in the mid 1990's. The NP205 can also be found in some types of specialized construction and off road equipment.
Due to it's versatility and wide use in so many applications over so many years, there are a number of factory variants of the NP205, plus a host of customized units. While most original equipment parts are still available from us as of 2010, identifying the exact part needed for a repair may take some sleuthing.
As a sad note to the history of New Process Gear and the NP205 Transfer Case, this news hit the wires in February 2009: Magna Corporation, the Aurora, Canada based company that bought New Process from Chrysler, announced it was closing the New Process Gear plant in East Syracuse, New York after the plants UAW workforce rejected a contract that would have cut the hourly wage to the mid teens. Production of new assemblies has been largely relocated to Mexico, while at least some parts production for older units is taking place in Muncie, Indiana.
The company that became New Process Gear in 1913 was started in 1888 as New Process Rawhide. It would later become part of Chrysler, be the New in New Venture Gear, (the joint venture between Chrysler and GM), revert back to Daimler Chrysler and finally end up becoming part of Magna (although Chrysler still owned the plant itself).
Besides the NP205, NPG produced the widely used NP435 4 speed transmission and a host of other transmissions and transfer cases through the many years of gearbox production in Syracuse.
Back to Page Link Navigation Bar at Top of Page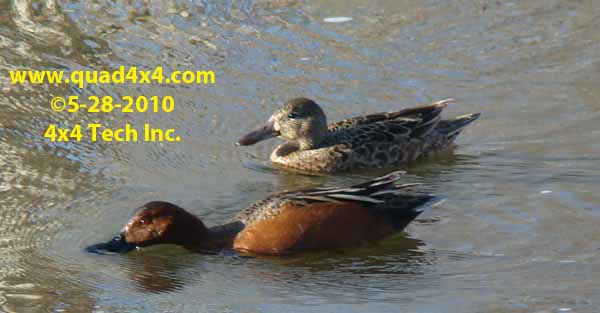 A drake Cinnamon Teal feeds in Clear Creek as his mate keeps a wary eye for danger. Roberts, Montana is at the extreme eastern range of the Cinnamon Teal. These beautiful dabbling ducks are primarily found west of the Rocky Mountains from southern British Columbia to northern Mexico. We often see these colorful birds in Clear Creek as it winds it's way through the QUAD 4x4 property. As a species, Cinnamon Teal are very interesting to watch during the spring and summer, because unlike other ducks, the drake Cinnamon Teal helps raise the ducklings.